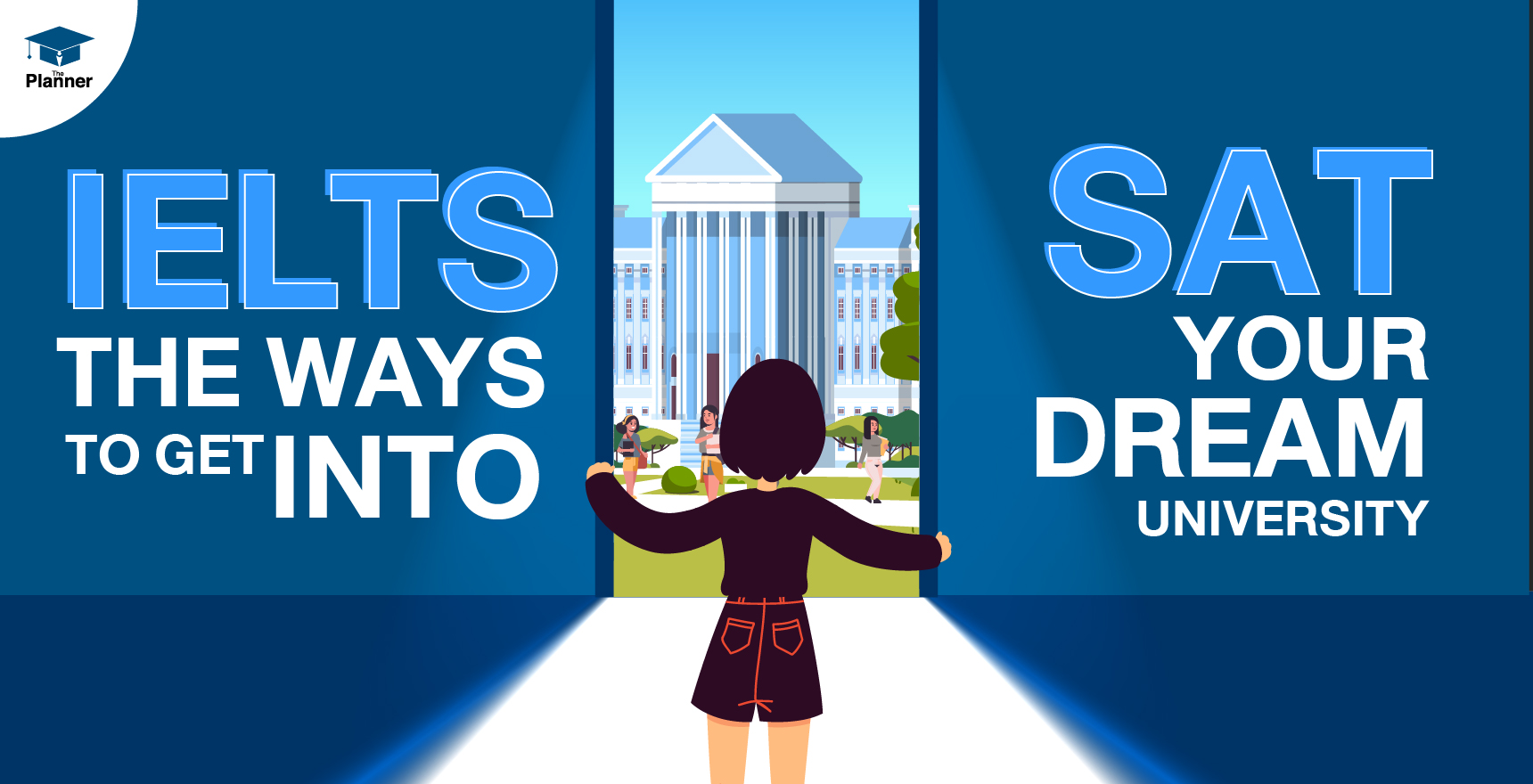 The next step for high school students to take and grow in is university admissions. If you are the one who is seeking a way to walk through the university of your choice, just read this and begin to create your dream way.
IELTS (the International English Language Testing System) is an English exam designed to help one work, study or migrate to a country where English is the native language. The exam mainly measures the ability of test-takers to communicate in the four basic English language skills – listening, reading, speaking, and writing.
SAT (Scholastic Aptitude Test) is a university and college entrance exam with 2 subjects; English and Mathematics that covers the contents from elementary school to secondary school.
Why are the IELTS and SAT exams required at the top universities in Thailand?
The common answer is that the university needs to be sure that all the students they recruit will not have communication issues while studying at the special campus or international campus, which is covered by English and mathematics courses. Therefore, an international English language proficiency test score such as IELTS or SAT is required for the application.
When do the IELTS and SAT exams start?
For the IELTS, people can take the exam all year round by applying on the British Council website and the IDP website. And on the SAT exam, it will be open for 5 rounds per year: March, May, August, October, and December (Update 2022), so people can create an account on the Collegeboard website for the application to the test.
Where can we use the scores to reach Thailand's top universities?
On another point of this blog, we would like to present the IELTS and SAT score requirements for entry into 2 of the top universities in Thailand. Let's see.
1.Chulalongkorn University (2022 Update)
BBA: IELTS ≥ 6.5 | SAT ≥ 1,270
JIPP: IELTS ≥ 6.5 | SAT ≥ 1,100
BALAC: IELTS ≥ 7.0 | SAT ENG ≥ 480
EBA: IELTS ≥ 6.0 or SAT ENG ≥ 450 | SAT MATH ≥ 650 or SAT SUBJECT (Math level 2) ≥ 650
BAScii: IELTS ≥ 6.5 or SAT ENG ≥ 500 | SAT MATH ≥ 640 or SAT SUBJECT (Math level 2) ≥ 600
CommArts: IELTS ≥ 6.5 or SAT ENG ≥ 500 | SAT MATH ≥ 600
INDA: IELTS ≥ 6.0 or SAT ENG ≥ 450 | SAT MATH ≥ 570
ISE: IELTS ≥ 6.0 | – SAT MATH ≥ 620 or SAT MATH Level 2 ≥ 600
PGS: IELTS ≥ 6.5 (Each section ≥ 6.0) | SAT ENG ≥ 500 or SAT TOTAL ≥ 1,200
CommDe: IELTS ≥ 6.0 or SAT ENG ≥ 450 | SAT MATH ≥ 490
BBTech: IELTS ≥ 6.0 or SAT ENG ≥ 450 | SAT MATH ≥ 500 or SAT MATH Level 2 (Subject test) ≥ 500
BSAC: IELTS ≥ 6.0 or SAT ENG ≥ 500 | SAT MATH ≥ 490 SAT MATH Level 2 (Subject test) ≥ 600
ChPE: IELTS ≥ 6.0 | SAT MATH ≥ 620 or SAT MATH Level 2 (Subject test) ≥ 600
2.Thammasat University (2022 Update)
BBA : IELTS ≥ 6.0 | SAT Total ≥ 1,200 SAT ENG ≥ 460 SAT MATH ≥ 600
BE : IELTS ≥ 6.5 or SAT ENG ≥ 450 | SAT MATH ≥ 650
LLB : IELTS ≥ 6.0 | SAT Total ≥ 1,200 SAT ENG ≥ 550
BJM : IELTS ≥ 6.5 or SAT ENG ≥ 450
BAS : IELTS ≥ 6.5 or SAT ENG ≥ 400
BSI : IELTS ≥ 6.0 | No SAT Score
BEC : IELTS ≥ 6.5 or SAT ENG ≥ 400
PBIC : IELTS ≥ 6.0 or SAT ENG ≥ 400
GSSE: IELTS ≥ 6.0 | No SAT Score
DBTM: IELTS ≥ 5.0 or SAT ≥ 400 | No SAT MATH Score
BIR: IELTS ≥ 6.0 or SAT Eng ≥ 400 | No SAT MATH Score
PPE: IELTS ≥ 6.0 or SAT Eng ≥ 450 | SAT MATH ≥ 600
UDDI: IELTS ≥ 6.0 or IELTS ≥ 4.5 | No SAT Score
EP-TEPE: IELTS ≥ 6.0 | SAT MATH ≥ 620 and SAT ENG ≥ 400
SPD: IELTS ≥ 6.0 or SAT ENG ≥ 450 | No SAT MATH Score
Want to explore more about our IELTS and SAT course?
Connect with us online via LINE: @theplanner or phone 095-726-2666