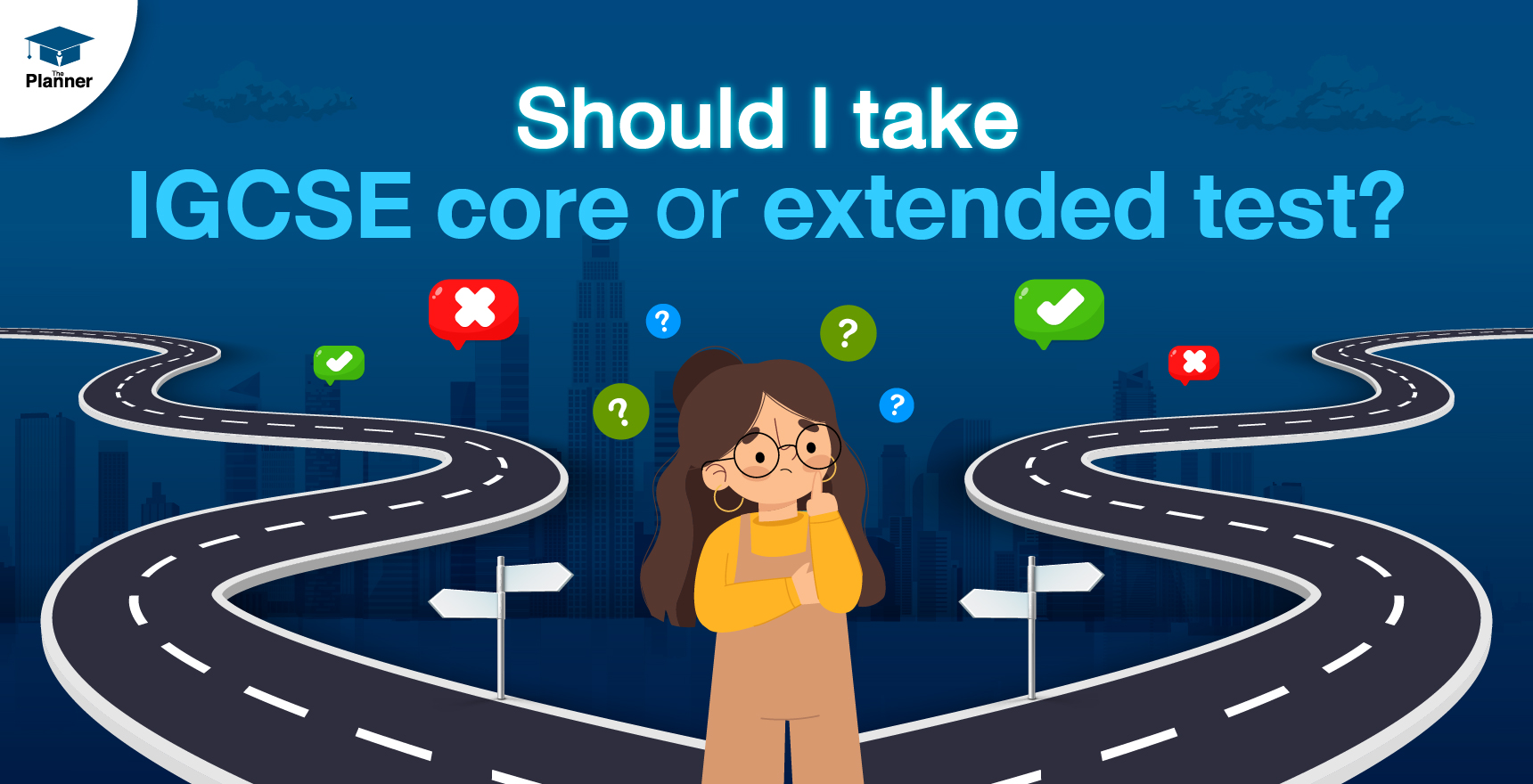 Those, who are interested in the International General Certificate of Secondary Education (IGCSE) which is a certificate from Cambridge that prepares students for further study whether A-Level or university level, wherever you study or learn, may concern or hesitant about whether should take the IGCSE core or extended test because Cambridge IGCSE has so many subjects to choose so that you might be confused by these details. Thus, we, The Planner Education, the best IGCSE and A-Level tutoring centre can help you clear this topic.
First things first, when you study the IGCSE class and want to pass the IGCSE test you have to at least get a grade C in 5 subjects and the differences between IGCSE Core and Extended is
Core Curriculum: the examination has its content comprehensive and available grades is C D E F G
Extended Curriculum: the examination has been designed for the more academically able and leads naturally into higher education or professional training, and available grades are A* (A Star) A B C D E
As you see, in the IGCSE Core Curriculum you have to get the highest grade to pass IGCSE but in the IGCSE Extended Curriculum, you don't have to get the highest grade to pass but it comes at a cost with harder content in the examination.
However, not every subject in the IGCSE provides the Extended Curriculum test, one of the reasons which Cambridge come with the extended curriculum test is for prepared you to be ready at the next level of education such as A-Level or university level, for example, there is a condition if you take physics subject you will have to take math in extended because it is required higher math solving skill in physics.
Another method to help you decide, whether core or extended curriculum, is exploring the IGCSE subjects that you love to study and are good at and planning your next level of higher education both A-Level and university level, which will help you a lot in this hard situation decision.
Conclude, the Extended curriculum is more interesting than the Core curriculum because you will have a chance to get A* and learn the IGCSE deeply content in those subjects but come at a cost with harder content, nevertheless the most important is you should explore and plan yourself in higher education so you can see the big picture that you should take IGCSE core or extended test.
But if you still cannot decide yet whether you choose to take the IGCSE Core of Extended test and are not sure that you're ready for the test, you can come and consult us, we're ready to help you make the right decision.
We understand how important studying is, let us be a part of your bright future.
See what courses are the best for you: GED | IGCSE | A-Level | SAT | IELTS | TOEFL-MUIC | CU-TEP | TU-GET | GSAT | CU-ATT | CU-ATS | BMAT | ACT | IB
Are you ready to catch your dream with us?