In a student's life, there's one battle that everyone has to journey through — the battle of getting into university. Students face a very fierce competition when going through university admission processes, and suddenly all of your friends become your competitors. For those of you who haven't started Year 9 or Mathayom 3, we really hope you're reading this because we want to acquaint you with the advantages of studying IGCSE. The IGCSE curriculum can help you be more recognisable and outstanding with its impeccable high standard reputation. In this IGCSE Blog Part 3, we want to tell you the 5 reasons that make IGCSE students outstanding. Let's get started!
IGCSE students have a prolific understanding of academic knowledge 
IGCSE courses are notable for being intense and rigorous. Students who study IGCSE are assessed beyond simply reading, writing, and speaking. IGCSE assessments are more profound as students have to demonstrate knowledge from various perspectives to ensure they truly understand the course content. 
The following abilities form the basis of IGCSE assessments:
Problem-solving
Knowledge application 
Acquired skills throughout the course
Critical thinking
Time-management skills
Oral skills
No wonder why IGCSE students are welcomed by prestigious universities around the world!
IGCSE students have innovative ways of thinking 
The nature of the curriculum empowers novelty of ideas and resources. The teachers only provide the fundamental concepts that underpin each subject while students are anticipated to be able to interpret the subject content, apply, and construct a deeper understanding by themselves. One can say that IGCSE students are trained to be innovative independent thinkers who are able to manage themselves under minimal supervision. It is shameful to think that many curriculums and schools, either intended or not, don't adopt this method of teaching but promote learning from memorising instead. Therefore, the privilege of IGCSE students is they're not taught to memorise and repeat the knowledge principles. Instead, they're well-trained to ask a lot of questions and think creatively. This is to prepare students for the method of teaching in higher education and for them to become exceptional learners in the university. 
IGCSE students have strong logical thinking 
You might question why would you need to have logical thinking? Logical thinking is one of the key success factors to your life, believe it or not. It lays the foundation of good decision making for any sort of problems that come in your way because you know how to analyse the situation which leads to finding innovative solutions to the complications. In other words, your problem solving skills are enhanced when you have strong logic. 
The IGCSE style of learning stimulates logic-based learning. The nature of the assessments and course material brings out the investigative skills that might be buried inside one's intelligence. Constantly being provoked to enquire why and how rather than passively remembering the course content will surely help students keep up with the changing global standard of education. As a result, IGCSE students will be able to adapt rapidly to their transition into local or international universities. 
GCSE students have an international mindset 
As IGCSE is designed to suit international audiences, the curriculum aims to increase cultural awareness among students. The studies incorporate international perspectives, acknowledging the differences of cultures around the world. The application-oriented, logic-provoking characteristics of the IGCSE curriculum are like a pathway that transfers students from local education to the international level.   
­­­­­
IGCSE students have employability skills
Studying IGCSE is a good start to develop skills that are sought by employers. IGCSE courses offer a wide range of practical expertise in business, technical and creativity. Having faced various challenges throughout the course, the students are nurtured to develop problem-solving, communication, team-work and creativity which are the essential skills needed in the workplace. There are lots of options to acquire practical skills to get ready for future employment. Here, we've gathered a list of creative and professional qualifications that students can study in IGCSE and AS and A-Level. This is so that you can plan your IGCSEs ahead for future advanced stages.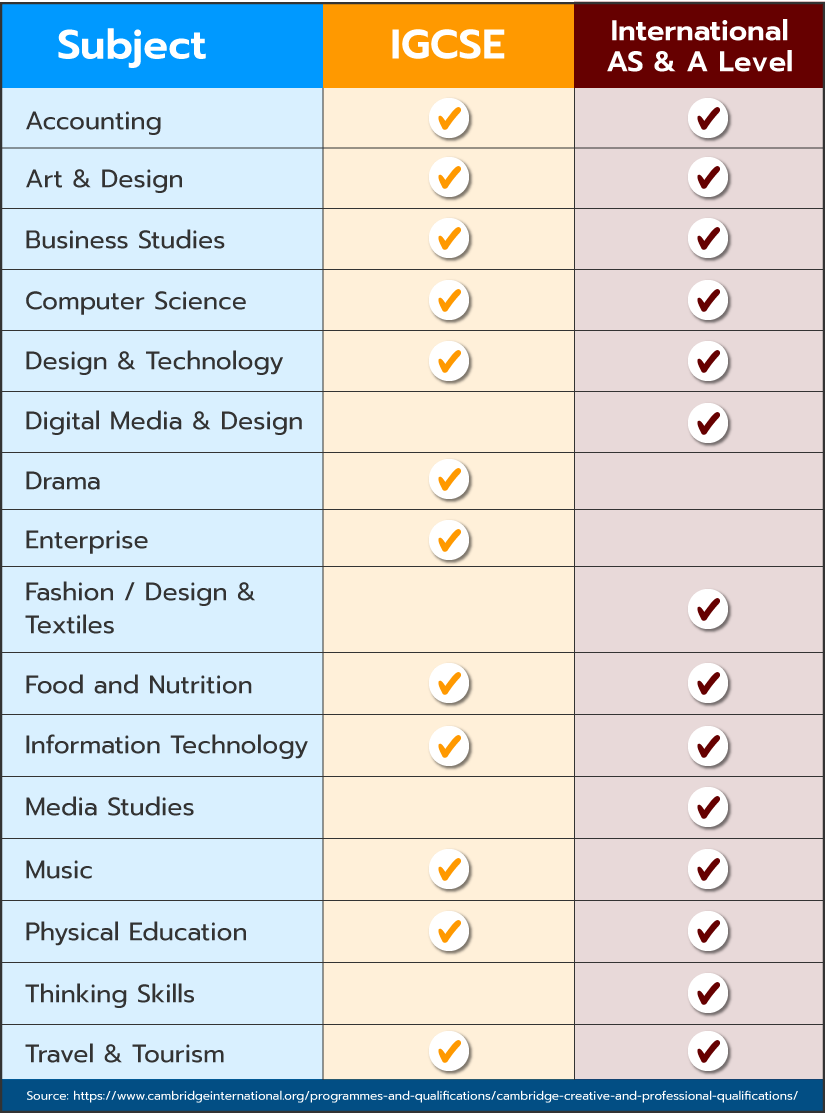 If you're intrigued or convinced with the IGCSE curriculum. We can help you. The Planner Education is one of Thailand's top-of-the-class IGCSE tutoring schools. We provide IGCSE tutoring classes in Bangkok by our instructors who are perfectly specialised in IGCSE course syllabuses. We are acquainted with the official syllabus updates so our students can rest assured that they're being taught with materials that are not outdated. For this reason, The Planner Education is widely accepted as one of the best IGCSE tutoring schools in Thailand.
Please feel free to contact us for IGCSE course consultation or other enquiries via 02-253-2533 or 095-726-2666 or contact.theplanner@gmail.com or LINE: @theplanner 
ติดต่อสอบถามคอร์สการเรียน IGCSE ได้ที่เบอร์ 02-253-2533 หรือ 095-726-2666
หรือ LINE: @theplanner