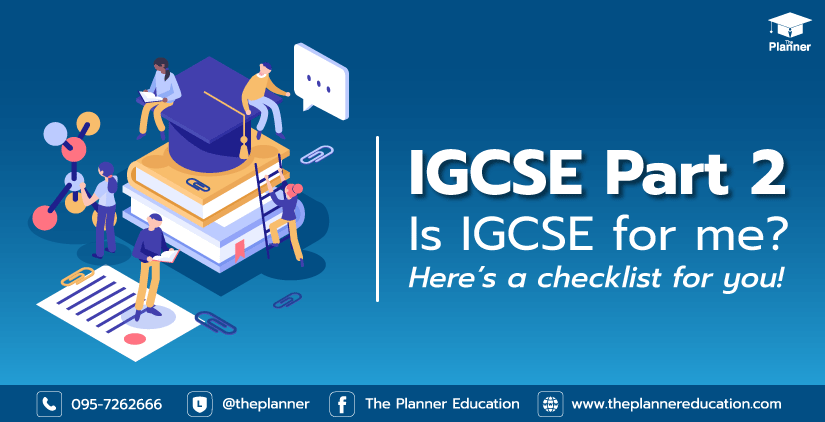 This blog is for those of you who are wondering if IGCSE curriculum will truly be a good match for yourself. In this IGCSE Part 2 blog, we've put together a checklist to help you understand a bit more about the curriculum and where it will lead you to.
IGCSE is a curriculum that is full of options and decisions to make. It offers multiple routes that students can take to strengthen each individual's specific interests and aptitudes. The curriculum encourages students to engage with their subjects of choice and implement the learnings on various approaches.
­­
Let's get started with the checklist!
• You want to pursue your higher education abroad or in an international university in Thailand 
Studying IGCSE will give you a large window of opportunity to study abroad. IGCSE is a Cambridge-made international curriculum and qualification for secondary education that is recognised by universities in the UK, Europe, America, Australia, New Zealand, and the Middle East. Moreover, top-tier universities in Thailand i.e. Chulalongkorn, Thammasat, Mahidol, Srinakarinwirot are familiarised with IGCSE and treat it as an equivalent to Mathayom 4 in the Thai education system.
If you have a solid plan of going abroad for your undergraduate degree, particularly the UK, studying IGCSE will be advantageous because it will give you a hint of the academic system in the UK, preparing you for a similar style of education.
IGCSE presents the student with high-level education, the kind that calls for knowledge interpretation, analysis, and creation. With intense preparation, IGCSE lays a good founda­tion for students who aim for reputable universities around the world.
• You know the subjects that you want to excel in 
If you have a sense of excitement when studying particular subjects, you often find yourself achieving high grades in some subjects, or perhaps you merely enjoy studying it — you're already heading in the right direction. IGCSE recognises that everyone has different interests and competency, so the curriculum doesn't impel students to study the subjects that they're not keen to. However, like what we mentioned in the previous blog, there is a compulsory core of Thai (if you're a native speaker), English, and Mathematics. Apart from that, you can go for any available subjects that you like.
Let's say you're someone who's ambitious in designing and computer graphics. General curriculums in Thai schools would have, at most, Arts or Computer classes that everyone has to enroll in anyway. But there won't be a class tailored to students who want to develop skills in designing and learn the compatible programs that come along with it. However, IGCSE realises the significance of individuals' divergent thinking and interests, and offers over 70 subjects of preferences. In this case, the student can enroll in the subject called Design and Technology. It allows students to study general knowledge of designing, communication, and technology i.e. Initiation and development of ideas, Communication of design ideas, Use of technology in designs, Practical design application. On top of that, students can choose one Specialist Option Content to harness the specialised skills that designers should have.
The aforementioned is just a mere example of one subject. IGCSE actually offers various compelling subjects that are targeted towards students with special interests such as Food and Nutrition, Enterprise, Travel and Tourism, and Environmental Management.
One key takeaway here is that people excel in different areas. Not everyone is good at everything, and if you're good at everything then you won't be good at anything.
• You want to be in control of your own curriculum
Have you ever sat in a class thinking "Why do I need to learn this" ? Education should be a choice that you can make for yourself. Students who study IGCSE can actively engage in their curriculum by being in control of subject selection. It creates more sense of belonging and motivation to study what you truly desire to learn. Because at the end, everyone wants to make a choice for themselves rather than letting the teacher passively select your course content, right?
When IGCSE gives you the opportunity to be in control, the question is how well can you take such responsibility? In the initial planning steps, you should prioritise your end goal — university requirements and your dream career. In the subject selection process, you should be able to find out, for the least, which subjects you're good at. After that, you then explore your options of universities, all the top tiers and the less competent ones. Look through their minimum requirements and the required IGCSE, A-Level, or AS-Level subjects because you need to plan your IGCSEs for further advanced stages.
But if you don't know where to start or you don't have any undergraduate degree in mind, we recommend you to go for a broad range of subjects. Start with Thai, English, and Mathematics which are compulsory. Then take one or more Sciences (i.e. Biology, Chemistry, Physics), one or more humanities (i.e. Geography, History), and a language (i.e. Chinese Mandarin, French, German).
If you're still struggling to choose your subjects of choice, stay tuned with our blog and Facebook Page The Planner Education for more updates on university entry requirements and IGCSE tips!
• You can't bear homework anymore 
If you're someone who's not all about assignments and coursework, this one's for you. IGCSE students can choose to not have coursework included in the assessment. On a daily basis, IGCSE students won't have to sit down and work on weekly assignments like ordinary students. However, no homework doesn't necessarily mean effortless, not at all. IGCSE final grades are assessed on the exams at the end of the course and can include written, oral, and practical assessment. One benefit is that your spare time after school can be used to build on other skills that you'd like whether it be music, sports, arts, you name it. Also, it gives you time until the end of the course to comprehend and interpret your knowledge before you're being assessed. However, it might be a loophole for students who are not disciplined enough to manage and balance your time for IGCSE test prep and your leisure time. Also, you might find IGCSE quite challenging if you struggle with assimilating knowledge and exhibiting the knowledge in exam conditions.
Opting out of coursework can be tough because your grades depend solely on the exams. At The Planner Education, we offer IGCSE exam tuition from our highly experienced professional IGCSE instructors who are specialised in various subjects. Our IGCSE tutoring courses are result-focused because we value your success as our top priority.
• You like flexibility 
If you're someone who endorses flexibility, then IGCSE is the curriculum for you. IGCSE gives students the option to take any IGCSE exams at any age. Distributing the exams over the course duration of 2 years can suffice students with more time for self-studies, practice on past papers, IGCSE test prep, and build on other self-developmental skills to be the well-rounded person that all universities are looking for. Another flexibility is, as we know, it allows students to co-create the curriculum through a selection of modules and subjects.
• You have an inspiration for your career path 
If you're someone who has decided a suitable career path for yourself then IGCSE
should be an asset to your university application. Studying IGCSE helps students  specialise while taking the course before advancing to university for higher education in the chosen field. IGCSE courses that provide practical skills for the job market i.e. Accounting, Art and Design, Business Studies, Computer Science, Economics, Travel and Tourism. Moreover, it helps students grow the skill sets that employers endorse such as problem-solving, critical thinking, communication, team-work and creativity.
After reading through the checklist, do you feel like IGCSE is for you? If you do, then hang in there! The Planner Education offers learner-oriented IGCSE tutoring classes in Bangkok. Our team of experienced and specialised tutors have helped over 90% of our students passing the IGCSE exams within the first time. Our courses are focused on grade achievements and techniques to earn as many points as possible.
If you don't know where to start with your IGCSE, looking for IGCSE tutoring classes in Bangkok, or struggling with achieving your desired grades, you're in safe hands now with The Planner Education.
Please feel free to contact us for further IGCSE course details via 02-253-2533 or 095-726-2666 or LINE: @theplanner
ติดต่อสอบถามคอร์สการเรียน IGCSE ได้ที่เบอร์ 02-253-2533 หรือ 095-726-2666
หรือ LINE: @theplanner