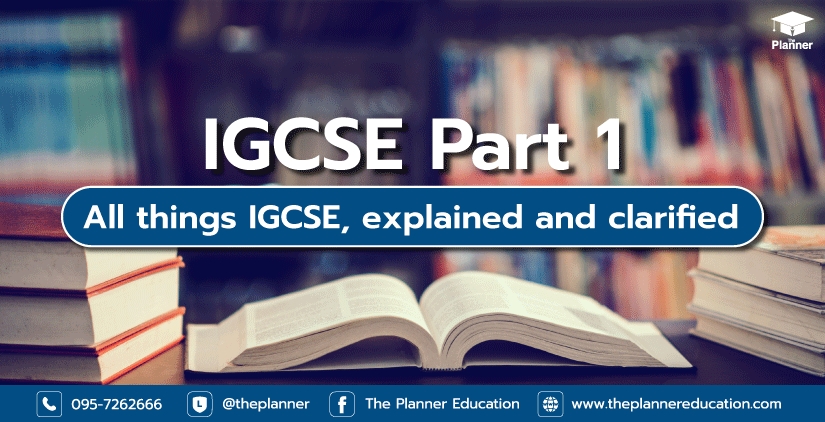 IGCSE in a nutshell
The International General Certificate of Secondary Education or IGCSE is a world-leading international curriculum for students of age 14-16 years old worldwide. It has been modified and adapted to serve the purpose of being internationally justifiable and meeting the local requirements. The IGCSE curriculum is based upon its precursor GCSE — the British Secondary Education system. In 1988, IGCSE was developed by Cambridge International Examination to provide a worldwide access to the British qualification with the same standard as GCSE but with international recognition.
What is IGCSE equivalent to?
IGCSE is equivalent to O-Level, GCSE, Year 11, or Mathayom 4. The curriculum's duration is for 2 years, after that, students need to proceed to AS or A-Level, International Baccalaureate (IB) or the equivalence of Mathayom 6 to meet university requirements.
Is IGCSE recognised by universities in Thailand?
Most top tier universities in Thailand such as Chulalongkorn University, Thammasat University, Mahidol University, Srinakharinwirot University recognise IGCSE as a reliable record of attainment. Every university defines its own entry requirements, albeit it usually includes 5 IGCSE subjects and 3 AS or A-Level subjects with grades above C.   
Where can I access IGCSE?
A number of international schools in Thailand have adopted IGCSE curriculum, teaching in the British system and acting as the venue for the exams.
There are approximately 44 international schools that offer IGCSE e.g.
Bangkok Patana School
Bangkok Prep International School
Brighton College Bangkok
Denla British School
Harrow International School Bangkok
King's College International School Bangkok
Regent's International School Bangkok
Shrewsbury International School
St. Andrews International School Bangkok
Wellington College International School Bangkok
IGCSE exams in Thailand are provided by Cambridge International Examinations (CIE), EdExcel, Assessment and Qualifications Alliance (AQA) and Oxford, Cambridge and RSA Examinations (OCR). Students of international schools that follow the IGCSE curriculum can register through their schools. While other students can register for examinations at the exam boards mentioned above.
Which subjects do I choose, is there a minimum? 
IGCSE students are given the autonomy to choose the subjects they want to study, and this is one of the reasons that make IGCSE students standout from the crowd — they're specialised. 
All Thai students are required to study a compulsory core of Thai, English, and Math along with other optional subjects. There is a minimum number of 5 subjects required with no restriction on the maximum number of subjects. Students who are studying in international schools usually take 8-9 subjects to keep the options open. However, students can choose to study just 5 subjects which is the minimum requirement for universities.
Students are strongly advised to choose the subjects that suit their interests and career goals. This is the part where they take a closer look at their likes and dislikes, what they're good at and what they're not. It is a good opportunity to explore themselves at such a young age.
What are my options?
Students would find themselves making quite a few decisions when studying IGCSE. Not only can students choose their course of studies, they can also choose to not be graded through coursework but rather be tested through exam-based assessments only.
Students are able to choose whether they'd like to take the exams in Core or Extended Levels. There are several subjects that offer both levels with the majority being in the Sciences category i.e. Mathematics, Physics, Chemistry, Biology, ESL
Core: Covers a full overview of the subject, with materials being brief and in the ability range for most students. The grade range for Core curriculum is C D E F G.
Extended: Provides more in-depth academic approach for the subject. The grade range for the Extended curriculum is A* A B C D E.
Students who study IGCSE are encouraged to be responsible for designing their own future depending on their talents, aptitude, and the vision of their future career. IGCSE offers over 70 subjects within 5 categories to choose from. Please see this link for full detail ibit.ly/KgKV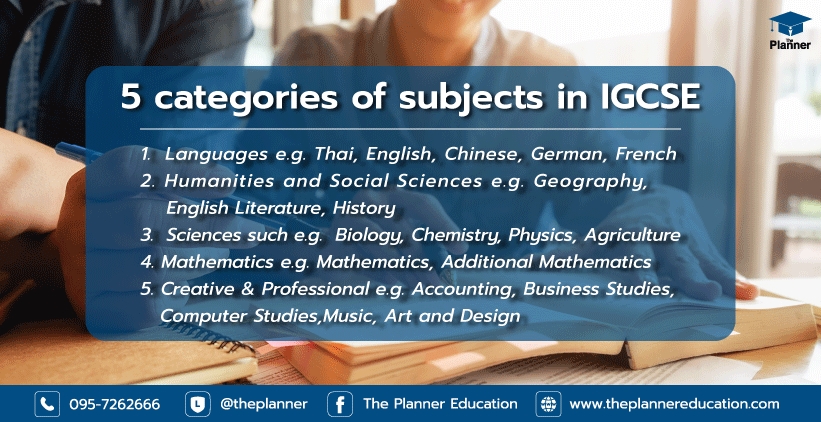 How does the Grading system work?
Don't underestimate the challenge you'll have to bear while studying IGCSE. The IGCSE is graded from A* to G.  However, students are required to obtain a minimum of C for the compulsory subjects to be qualified for AS or A Levels. 
Now, Let's get started!
You would probably have an idea of how the IGCSE system works by now.
When you're as young as 14, it can be challenging to design your own curriculum or even to explore yourself in the first place. Planning your IGCSE subjects is as important as getting the grades you want to achieve.
With The Planner Education, we offer IGCSE curriculum consultation and examination tutoring courses constructed by Thailand's top tier IGCSE tutors. We're experienced with exam preparations, mock tests, and have in-hand lots of past papers for you to practice.
How can we help you?
We offer 18 IGCSE tutoring courses in Bangkok on a 1 on 1 basis,  in pairs, or groups. With our constant updates on the course syllabus and unlimited past paper practices, our students are undoubtedly achieving their desired grades. Our success is proven by the 90% of our students who passed the exams within the first time, and the 60% of our students who achieved A* and A. 
If you feel like you don't know where to start with your IGCSE, looking for IGCSE tutoring classes in Bangkok, or struggling with achieving your desired grades, you're in safe hands now with The Planner Education. 
Please feel free to contact us for further IGCSE course details via 02-253-2533 or 095-726-2666 or LINE: @theplanner